Education • Support • Advocacy
​
Our Mission
Promoting mental health in Hancock County to build better lives through education, support, and advocacy.
Our History
NAMI Hancock County is an affiliate of the National Alliance on Mental Illness (NAMI) which was established in 1979. Initially a self help organization for anyone affected by serious and persistent biologically-based brain disorders, NAMI is a formidable mental health advocacy organization for individuals with mental illness and their families. NAMI Hancock County is a grassroots organization founded in 1996 by a group of Findlay/Hancock County residents. NAMI Hancock County is a 501c3 charitable organization.

Our Board
Christina Edwards, President
Maribeth Geaman, Vice President
John Calvelage, Treasurer
Starr Laytart, Secretary
Jaclyn Hecker, Past President
Rodney Blackburn
Courtney Dysert
Jennifer Galbraith
Michelle McGraw
Howie Ohler
Chris Nold
​
​
Our Staff
Eric D. McKee, Executive Director
​
Bailey Kerr, LSW, Director of Programs
​
Brittany Schindler, LSW, Director of Volunteers
Brittany@namihancockcounty.org
​
306 N. Blanchard Street
​
Findlay, OH 45840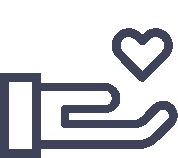 1 in 5 Americans live with a mental health condition.
Your support ensures that no one is alone in this fight
Subscribe to our mailing list